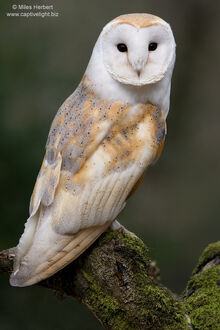 Characters that are Barn Owls.
These medium-sized owls have long, rounded wings and short tails, which combine with a buoyant, loping flight to give them a distinctive flight style. The legs are long and the head is smoothly rounded, without ear tufts. Barn Owls are pale overall with dark eyes. They have a mix of buff and gray on the head, back, and upperwings, and are white on the face, body, and underwings. When seen at night they can appear all white.
- Cornell Lab of Ornithology
Pages in category "Barn Owls"