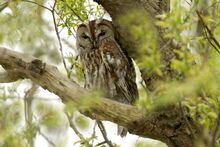 The tawny owl or brown owl is a stocky, medium-sized owl commonly found in woodlands across much of Eurasia. Its underparts are pale with dark streaks, and the upperparts are either brown or grey. Several of the eleven recognised subspecieshave both variants. The nest is typically in a tree hole where it can protect its eggs and young against potential predators. This owl isnon-migratory and highly territorial. Many young birds starve if they cannot find a vacant territory once parental care ceases. This nocturnal bird of prey hunts mainly rodents, usually by dropping from a perch to seize its prey, which it swallows whole; in more urban areas its diet includes a higher proportion of birds. Vision and hearing adaptations and silent flight aid its night hunting. The tawny owl is capable of catching smaller owls, but is itself vulnerable to the eagle owl or northern goshawk.
Pages in category "Tawny Owls"
Ad blocker interference detected!
Wikia is a free-to-use site that makes money from advertising. We have a modified experience for viewers using ad blockers

Wikia is not accessible if you've made further modifications. Remove the custom ad blocker rule(s) and the page will load as expected.