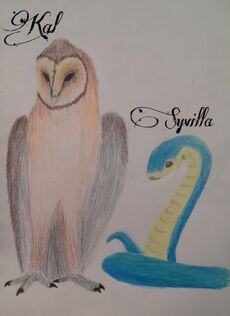 Kal is a secondary character in the fanfiction "Legend of the Guafdians Owls of Ga'Hoole: The Resistance" and Syvilla is a minor character.
Kal ans Syvilla were both born at the tree. Kal became a guardian and Syvilla became the nest maid snake for
Borrus
and
Strinx
after she suffered a brutal blow to the head causing her to become blind. Kal is also mates with
Rennee.
No word is heard from Kal and Syvilla goes missing once the Purge attacked the tree.
Ad blocker interference detected!
Wikia is a free-to-use site that makes money from advertising. We have a modified experience for viewers using ad blockers

Wikia is not accessible if you've made further modifications. Remove the custom ad blocker rule(s) and the page will load as expected.